Welcome to Lake Michigan Animal Hospital!
Your Veterinarian in Allendale, MI
Call us at 616-895-5852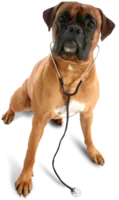 Dr. Andrea Verhougstraete and Dr. Kristina Baszler are extremely excited to welcome you to our veterinary hospital. After practicing veterinary medicine together for eight years, we decided to embark upon a new journey and open our own animal hospital in 2014. We chose Allendale because of its small town feel with a close proximity to the Grand Rapids area and everything it has to offer. Dr. Erin Ricco joined our team at Lake Michigan Animal Hospital in 2014. Our highly skilled staff are all dedicated to providing compassionate and quality care for your furry family members.
It is our mission to provide high quality medical and surgical care to our patients while educating and assisting clients about pet care and ownership. We will do this by promoting regular preventative care so our patients can enjoy a lifetime of good health. At all times we will treat our clients and pets with respect, honesty, dignity and compassion.
Click here to see a virtual tour of our clinic!
Your pets' health and well-being are very important to us, and we take every possible measure to give your animals the care they deserve. We are a full-service animal hospital offering state of the art veterinary equipment in diagnostics and treatment options. Our high-definition digital x-ray provides the best images possible. Our digital dental x-ray and high-speed dental unit will allow us to perform dental procedures safely and efficiently. Our full in-house laboratory allows us to run blood work, urine and fecal tests quickly and thoroughly.
Beyond first-rate pet care, we strive to make our hospital clean, comfortable, kid-friendly, and calm, so your pet can relax in the waiting room, and you can look forward to your pet's visit.
We are happy to offer a number of resources that enable you to learn about how to take better care of your pets. Please feel free to browse our site, particularly the informational articles. If you have any questions, call 616-895-5852 or email us. Our office is very easy to get to -- and you can find directions on our Contact Us page! We also welcome you to subscribe to our newsletter, which is created especially for our clients.
Dr. Kristina Baszler & Dr. Andrea Verhougstraete & Dr. Erin Ricco
Allendale Veterinarian | Lake Michigan Animal Hospital | 616-895-5852
6857 Lake Michigan Drive
Allendale, MI 49401